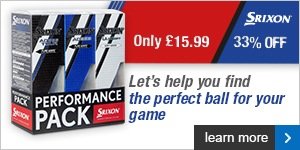 Which ball is right for your game?

With so many options in the market, it can be tough to know which ball will give you the perfect performance from tee-to-green. So to help you make this decision, Srixon has released a limited number of Performance Packs - each containing a sleeve of three of the AD333 Tour, AD333 and UltiSoft golf balls - for you to try and compare.

These Performance Packs cost just £15.99 and are a fantastic way for you to discover which Srixon ball is the perfect ball for your game.

Watch our video below to learn more about each of these options.