Latest News
For the latest news from the guys responsible for keeping our brilliant course in wonderful condition please click here and follow their blog.
To read on about the Kirtlington Greenkeepers secret weapon please see below.
The Team
Without our greenkeeping team none of us would be here. They provide two great quality and superbly maintained golf courses all year round.
Brett is our course Manager and Steve is his first assistant. Ollie and Garrett work full time and Wendy covers weekend mornings.
Joining them for the summer months are Clive and Damien and providing refreshments on the golf course at weekends is David.
Hebridean Sheep
Rare Breed Sheep help to keep the rough under control at Kirtlington Golf Club

The Hebridean sheep is a breed of small black sheep from Scotland, similar to other members of the Northern European Short-Tailed sheep group. These sheep are relatively small and fine boned, with black or dark brown wool. In 1973 the Rare Breeds Survival Trust identified Hebridean sheep as a breed in danger of extinction. Only a few parkland flocks remained and there were none of these sheep left in their homelands of the west of Scotland.
People on the western coast of Scotland have claimed historically that they could almost always find an errant shot in the rough due to the fine grazing of sheep. Today, it's hard to imagine Tiger Woods waiting for sheep to cross the fairway, but modern courses might not even have fairways without sheep. There are few hard facts in the misty origins of golf, but the story goes that the bunkers at St.Andrews- Scotland's first golf course were scrubbed out from sheep hurdling together against the wind. Some suspect that grazing sheep may have even mowed the fairways between the dunes of the famed "Old Course"
Grazing at Kirtlington Golf Club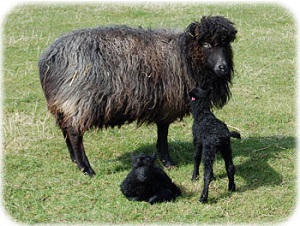 Our current sheep have come here from The Isle of Mull in Scotland and are traditionally used to being out on the open hills with extreme elements.
Hebrideans are hardy and able to thrive on rough grazing, and so are often used as conservation grazing animals to maintain natural grassland or heathland habitats. They are particularly effective at scrub control, having a strong preference for browsing.
We have brought fifteen sheep to Kirtlington Golf Club to provide the best environmentally maintained grounds possible; they will feed and maintain the delicate ecological balance of the area.
The nature and nurture have been combined to create a haven for both golfers and wildlife as rare Hebridean sheep graze the rough areas.

Who knew? Sheep could make golf a less frustrating game!
Green Fees 2019